Kat
and I decided to watch the Oscars together this year...unfortunately time zone issues are threatening to mess with us, but we're gonna try this anyway.
First we're gonna talk about the fashion. There's always great dresses - as well as some horrible choices.
This post will be edited multiple times throughout the evening ;)
Kat:
Thanks for having me Angela.
I'm watching E! right now.
Zac Efron seems to have taken a page from Robert Pattinson's book and gone wild with hair grease.
Miley Cyrus would be adorable if she didn't speak.
I'm looking forward to seeing what Kate Winslet and Angelina Jolie wear this year. Who are you on the lookout for on the red carpet?
Angela:
Thanks for joining me Kat!! I'm watching E! too.
Miley Cyrus is a little scary to me.
I'm definitely looking forward to seeing Kate Winslet, and Angelina Jolie this year. I'm also just looking for anyone that's got great dresses. I'm always interested in what people choose to wear to this event.
Kat:
I wish Joe McHale hosted E!'s show instead of Seacrest.
Guiliana's dress looks like a cheap knockoff of Kiera Knightley's Oscars dress from a few years ago. She nowhere near pulls it off.
So far there haven't been any fashion standouts for me. Here's some pics: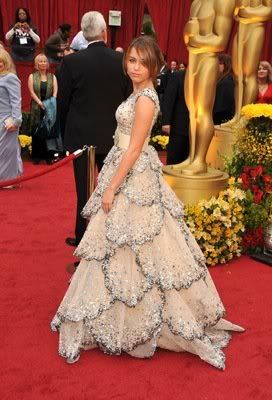 Angela:
I actually like Miley Cyrus' dress. It's interesting and flatters her. I did really like Taraji P. Henson's necklace. I can't find a picture of it though.
Seacrest is somewhat annoying. I got a kick out of him trying to talk to one of the kids from
Slumdog Millionaire
that didn't speak English *roll*
Kat:
Michael Sheen *squee*
I love the way Seacrest says "real" like it's something extraordinary.
I didn't even recognize Seth Rogan.
Oooh, I like Sarah Jessica Parker's dress. It does not have a Miley feel. She looks adorable.
Natalie Portman!!! Why aren't they showing her dress, dammit?
Here's Taraji: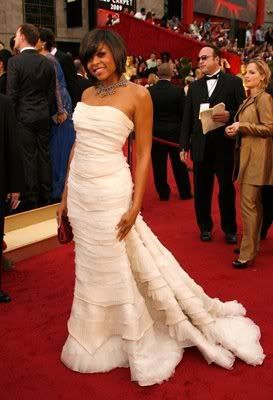 RDJ just showed up. I think I might need a THUD mat for Angela ;)
Anne Hathaway doesn't look like she can walk in her dress.
Holy necklace Amy Adams! I'm not sure how I feel about it.
Robert Pattinson is here. His hair is shorter, but evidently he didn't get the memo about washing your hair before the biggest night in Hollywood.
Angela:
OMG! Robert Downey Jr! He's looking very dashing!! I may need that THUD mat ;)
Robert Pattinson at least got a haircut before the Oscars. Unfortunately he didn't choose the wash & cut. *sigh*
I love Marissa Tomei's hair! But the dress...I'm not so sure about it. The way it gathers at the ground is just not right.
Wow. Seth Rogan looks totally different.
Kat:
I love Natalie Portman's dress. I have a girl crush on her, I admit.
Anne Hathaway's dress, I do not like.
Ooooh, I *heart* E!'s flashback. Leo...........*inner 12 year old sighs dreamily*
Don't give me that look Angela. They put RDJ and Johnny in there too.
Now Brad and Colin....
Angela:
I missed Natalie's dress! I'm bummed. Just saw her face, but she looked great.
Anne Hathaway's dress totally does not flatter her. I don't like it.
LOVED the flashback! Johnny Deep *sigh* RDJ, Brad, Colin. You can't get better ;)
Kat:
Beyonce is wearing drapery.
Mickey Roarke looks like he fell out of bed and got dressed in the dark.
Meryl Streep has arrived. I love her. She's a Vassar girl too :D
Queen Latifah - proof that you don't have to be a stick to be hot. Can't see her dress though.
Angela:
The best part of Mickey Roarke's ensemble is the necklace around his neck.
Queen Latifah looks great! I love that she's not stick thin. I'd like to see more of her dress though.
Jessica Biel looks harsh....I'm not sure if that's the angle or what.
Kat:
What lessons did she take away from Elmo?
Seriously Seacrest?
Ugh.
They're glamastrating Anne Hathaway. They like it? I hate it. She looks washed out and stuck in there.
Angela:
I don't know what their thing is for Anne's dress. That was awful. She looks uncomfortable, and it cuts up her torso oddly.
Here's Peter Gabriel. I totally wouldn't have recognized him.
Marion Cotillard - soon to be seen in Public Enemies. I like the top part of her dress which is all I could see.
Kat:
OMG, Jessica Biel's dress is barfing taffeta. And I don't think her shoes match.
Not sure how I feel about the bottom of Marion Cotillard's dress. Top looks gorgeous.
Evan Rachel Wood – people shouldn't be able to smell you coming.
Why can't they interview Natalie Portman?
It's Brad and Angelina!!!!!!!!
They look gorgeous. They disappointed me on the style front the past few times and I adore them, so now I'm happy.
Angela:
Jessica Biel's shoes definitely do not match. They're black...with a cream or white colored dress. Which I wouldn't normally have a problem with, but it's jarring. And the drape at the front is just ... *shudders*
LMAO! I think I'd be horrified if someone smelled me coming for an interview o.O
Brad and Angelina! They look great! Love the neckline of Angelina's dress.
Kat:
Non-newsflash: Seacrest mangles Spanish.
Penelope, you're beautiful (and possibly wearing hte same dress as the last 5 you wore), but blocking my Angelina view.
WTF is PSH wearing? NO SKULL CAPS AT THE OSCARS MAN!!!
There's Winslet. Err......it looks like she couldn't make up her mind so they pieced together 4 different dresses.
Angela:
Okay. I've just realized that I don't agree with E! at all on the fashion. Ugh. They like Penelope's dress, and Jessica Biel's dress. *shakes head.
Philip Seymour Hoffman. No. No. That is NOT a good idea.
I'm a little disappointed in Kate Winslet's dress. She looked so gorgeous the last time I saw. But her hair looks great.
Kat:
Watching Brad and Angelina on ABC. Classic looks, beautiful on them. They're fun and charming to watch. People are asking them the most convoluted questions. Awww, Mickey Roarke and Sean Penn are Brad Pitt's idols.
They need to stick with shoulders-up shots on Winslet. She is reminding me of Emma Thompson tonight. Not a bad thing.
I think I got cheated. No Portman interviews.
Angela:
Tried to run my dog out quick during the commercial break, turned out to be not so quick. LOL.
I missed Brad & Angelina??!!
Kat:
Seacrest got about 10 seconds of Brad. I laugh.
Angela:
RDJ looks really good. *sigh* I can't wait to see more of him. He's had some great movies lately. Lots of fun :)
Switched to ABC's Red Carpet show.
Kat:
Time for ABC too.
Tim Gunn is asking Amy Adams silly questions.
Amy Adams:
I like SJP's dress, save for the belt.
Nixon couldn't be here tonight. No, really?
Angela:
Angelina's got lime green earrings on. Slightly unsurprisingly, she pulls it off.
Amy Adam's dress choice this year is a lot better than the previous few times.
Kat:
See Tim Gunn physically hold Angelina hostage for an interview.
Okay, I don't want to be reminded of CD's fugly dress, even if Valentino designed it.
Picturegasm: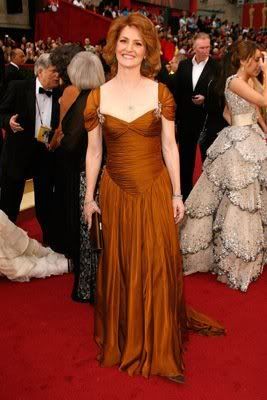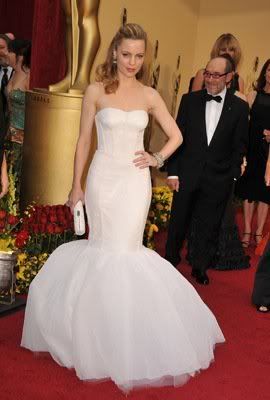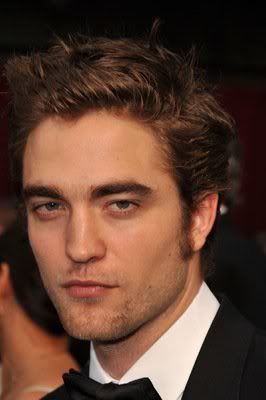 Angela:
Great pictures Kat!! Well, a great selection ;) I still don't see why Robert Pattinson can't wash his hair.
Robert Downey Jr: "That'll be darn swell." LOL. His wife is wearing a gorgeous dress.
And here's Anne Hathaway with that awful dress again.
Kat:
Ya know, if you back up far enough, AH's dress doesn't look so bad.
Miley is STILL on the red carpet talking?
No, sweetie. Hannah Montana the movie won't bring you to the Oscars.
Angela:
Ooh. The winning envelopes - LOL.
Miley's trying to milk it for everything it's worth.
Meryl Streep. Her daughter is beautiful. I like the color of Meryl's dress actually. Goes well against her skin.
Kat:
Meryl Streep!!!!
I love her. The dress is kinda unremarkable. But ya know what? It doesn't matter. It's Meryl Streep.
More pics. I do not like MR's outfit and WTF is Tilda Swinton wearing????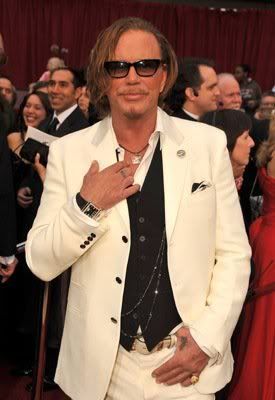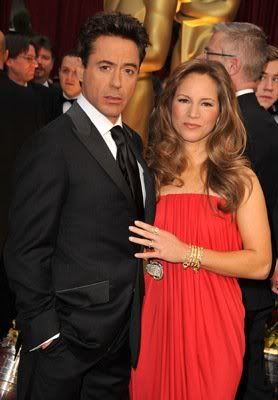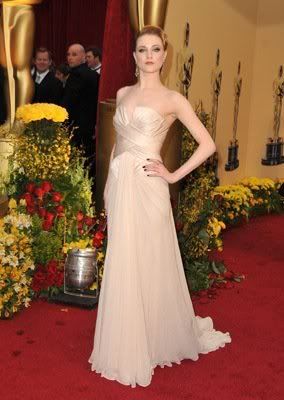 Angela:
Tilda Swinton apparently thought her dress top should blend completely with her skin. It's washing her out completely!
Overall - I haven't seen anything that I just LOVED tonight. But there were definitely some good ones.
Kat:
Loved Jolie and Portman
More pics: